Global reach. Local professionals.
Bid Specialists is headquartered in the UK (London) but operates in the United States, Canada, EMEA (Europe, the Middle East and Africa), Asia-Pacific and Latin America.
Global reach, local professionals
10 years
Average experience
Book a FREE Consultation
Why Bid Specialists?
Bid Specialists was built to empower bid and sales teams to close more bids, tenders and government contracts through the provision of top Bid and Proposal Talent. Our first-of-its-kind platform and sector-specific specialists make the process of hiring top talent and winning deals easier, faster and more cost-effective.
Our competitive edge - Your key benefits
Top talent: direct access to our pre-screened talent in 32 countries ready to be interviewed and hired.
Reduce cost to hire: save up to 50% in recruitment fees (versus traditional recruitment agencies).
Reduce time to hire: find and hire exceptional talent in just a few days rather than months.
Personalised service: our client-centric and people-focused approach help us deliver a truly outstanding customer experience.
Industry specialists: we're sector-specific Bidding and Talent Specialists with a wealth of experience and equipped to add value from day one.
The core roles that we recruit include:
Bid Directors, Bid Managers, Proposal Managers, Bid Writers, Bid Specialists, Proposal Specialists, Bid Co-ordinators, Business Development Managers, Capture Managers, Sales Directors, Sales Leads, Sales Managers, Account Managers, Account Directors, Pricing Specialists, Solution Architects, Bid Assistants, Bid Support, Sales Support, Graphic Designers, Pre-Sales, and more Bidding Specialists.
Our Strategic Pillars
HIRE the best talent in Bids, Proposals and Capture.
WIN new and retain existing contracts (commercial and government).
GROW your business through winning bids and contracts.
Our Mission
Bid Specialists are on a mission to find the best Bid and Proposal talent for our clients and life-changing careers for candidates. We make it easier, faster and more cost-effective.
Our Core values

Act with Integrity
We operate with integrity, honesty and transparency at the forefront of all our dealings and engagements.
Build Trusted Partnerships
We leverage an ecosystem partnership approach to maximise value and outcomes for our clients.
Focus on Value Creation
We genuinely listen and understand our clients' needs and deliver immediate impact, social and commercial value.
Transform People's lives
We are committed to helping professionals to maximise their potential, get a better job and build a successful career.
Superior Customer Experience
Professionalism, a client-centric approach and people-first attitude define how we provide a superior customer experience.
Empower Better Wellbeing
We champion a better work-life balance, increased motivation, satisfaction and happiness between bid teams.
Industries of Expertise
We work with small, medium sized and large enterprises operating within various industries,
including:
Digital, Data & Technology
Civil Engineering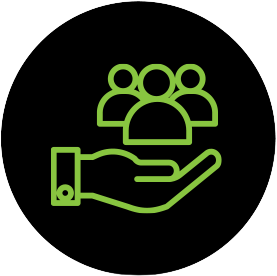 Professional Services
Construction
Legal Sector