Consulting
We specialise in helping organisations win private and public sector contracts by transforming their winning business capabilities, solving challenges today to create sustainable growth and resilience for tomorrow. We do this by implementing our
Winning Business Intelligence Platform
- a new approach to winning deals at scale.
Winning Business Intelligence Platform™
A fully integrated business model designed to help organisations to leverage the best of people, processes and cutting-edge technology for winning business through tenders, proposals and pursuits.
Our scalable and future-proof platform illustrated below brings a winning mindset, discipline and agility to make sales capture, bid and proposal management less painful, and a truly productive, enjoyable and rewarding experience.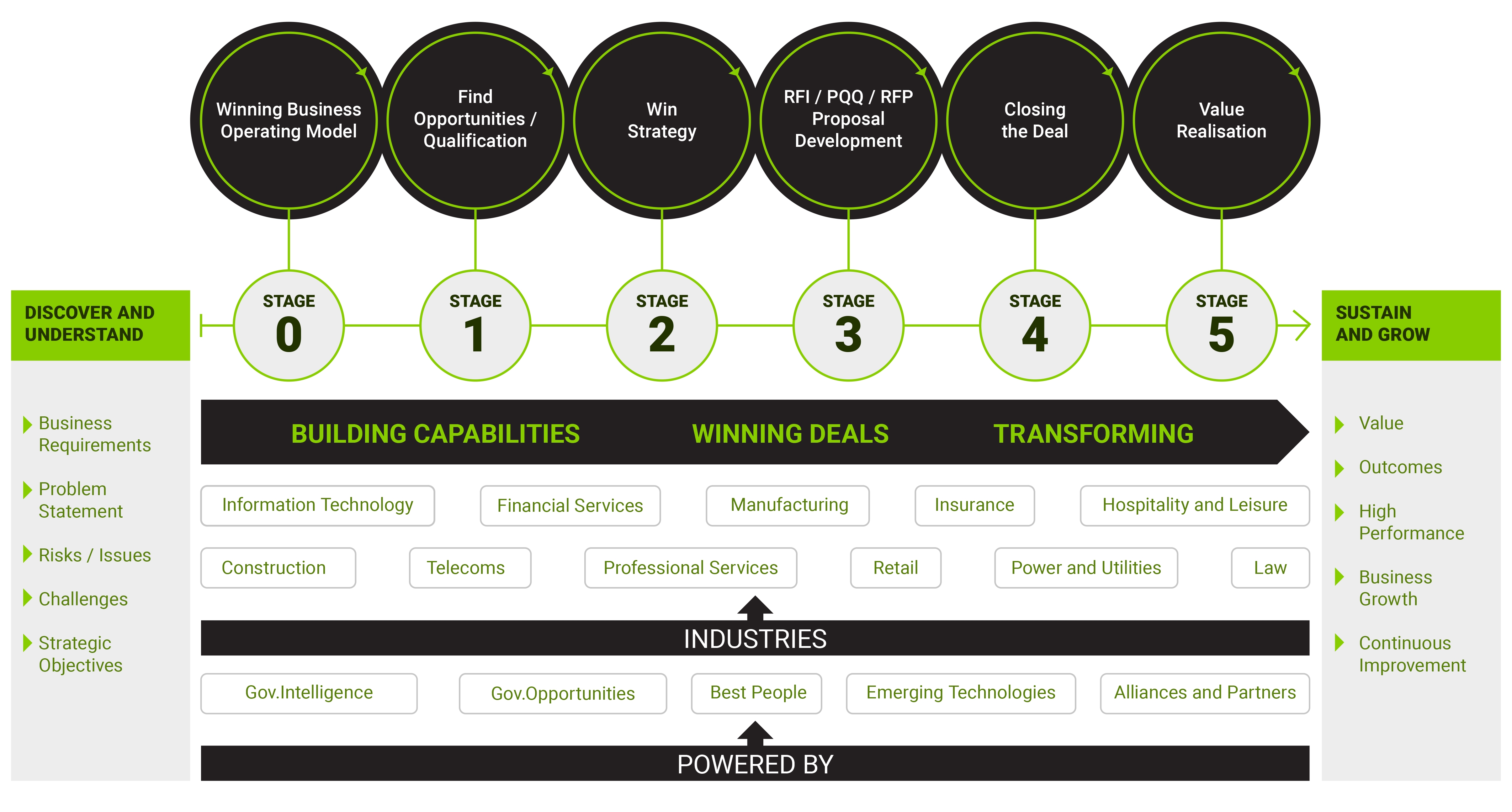 Platform Highlights
WINNING BUSINESS OPERATING MODEL
Build a scalable and future-proof winning business operating model, sales capture, bid/proposal management function that is aligned to the company's strategic vision. At this stage, organisations are equipped with the right people, processes, technology and tools.
FINDING OPPORTUNITIES AND QUALIFICATION
Unlock opportunities with an actionable capture plan for identifying and qualifying deals that are winnable, deliverable and profitable. At this stage, we focus on building a quality sales pipeline and a robust qualification process.
Define a 'win strategy' process by leveraging customer insight, competitive intelligence and tools that truly gain a competitive edge, contract expansions, extensions, new client acquisitions and increase ROI.
RFI/PQQ/RFP PROPOSAL DEVELOPMENT
Introduce a hybrid (Waterfall + Agile) proposal development process that brings discipline, agility, quality and speed when producing value propositions in response to RFIs, PQQs, ITTs and RFPs. We bring together the best of people, methodologies, automation and tools.
Implement best practice processes, tactics, and tools for BAFO, orals/presentations and final contract negotiations. At this stage, we ensure that your sales team has the right mindset, skills and a closure plan to successfully close deals.
Integrate data analytics and KPIs to measure the performance of your bid/proposal management function. These metrics are aligned to achieving the desired value and outcomes. This would also help to make faster and more informed decisions.
Key Benefits for Our Clients
Sustainable
Business Growth
The 'Winning Business Intelligence Platform' enables our clients to define and execute the right strategies and sales tactics to achieve sustainable business growth.
Improved
Win Rates
Leverage the best of people, processes and cutting-edge technology to increase our clients' win rate and return on investment (ROI).
Cost Savings
It allows organisations to streamline their internal processes, automate manual tasks and drive cost reduction, whilst maximising business value and resource utilisation.
Future-proof
Platform
Built with a mission of transforming our clients' winning business capabilities, solving challenges today to create sustainable growth and resilience for tomorrow.
Industry-focused
Expertise
Our clients gain access to industry-specialists in winning business via formal tenders, bids, proposals and pursuits.
Better
Well-Being
Achieve better work-life balance, increase motivation, satisfaction and happiness between bid teams.
Potential Technology Partners